About
Canada has a rich and multi-faceted history of fine art printmaking. NSCAD's internationally renowned Professional Lithography Workshop (1969-1976) is at the forefront of this history. Its influence in establishing a practice of collaborative printmaking throughout North America re-defined the art potential of print in the 20th century. In 2017, the Anna Leonowens Gallery was successful in receiving a Canada Council New Chapters grant to build upon the enduring legacy of the NSCAD Lithography Workshop. Over two years, eight contemporary Canadian artists were invited to the NSCAD Printshop to work in collaboration with Tamarind-certified Master Printer Jill Graham to produce of a portfolio of limited-edition, hand-printed lithographs over a two-year period. Participating artists include Shuvinai Ashoona, Jordan Bennett, Shary Boyle, Brendan Fernandes, Amy Malbeuf, Ed Pien, Derek Sullivan and Ericka Walker. The prints were unveiled in the exhibition NSCAD Lithography Workshop: Contemporary Editions at the Art Gallery of Nova Scotia on November 9th, 2019.
The creation of these prints served as a launching point for a series of public artist talks and studio visits with the NSCAD community. A series of short documentaries profiling each artist during production were created by Halifax based filmmaker Marcia Connolly. These shorts aired on CBC's The Exhibitionists starting in November 2019.
This project also recognizes the historic relationship between NSCAD and Kinngait Studios and contributes to the emerging critical discourse surrounding decolonizing practices within the arts. It formalizes community collaboration and shared creative space between new artists and printers in both Cape Dorset and Nova Scotia, suggesting the kind of cross-cultural exchange that arctic communities and institutions already thrive on, and that are imperative for the rest of Canada to begin engaging with. Connecting these artists and studios represents an important new chapter in Canadian art history, one based on the premise of sharing artistic and technical knowledge, facilitating new experimentation, and co-operative construction: all goals historically held by both arctic indigenous cultures in Canada and print culture the world over.
Production of Print Folio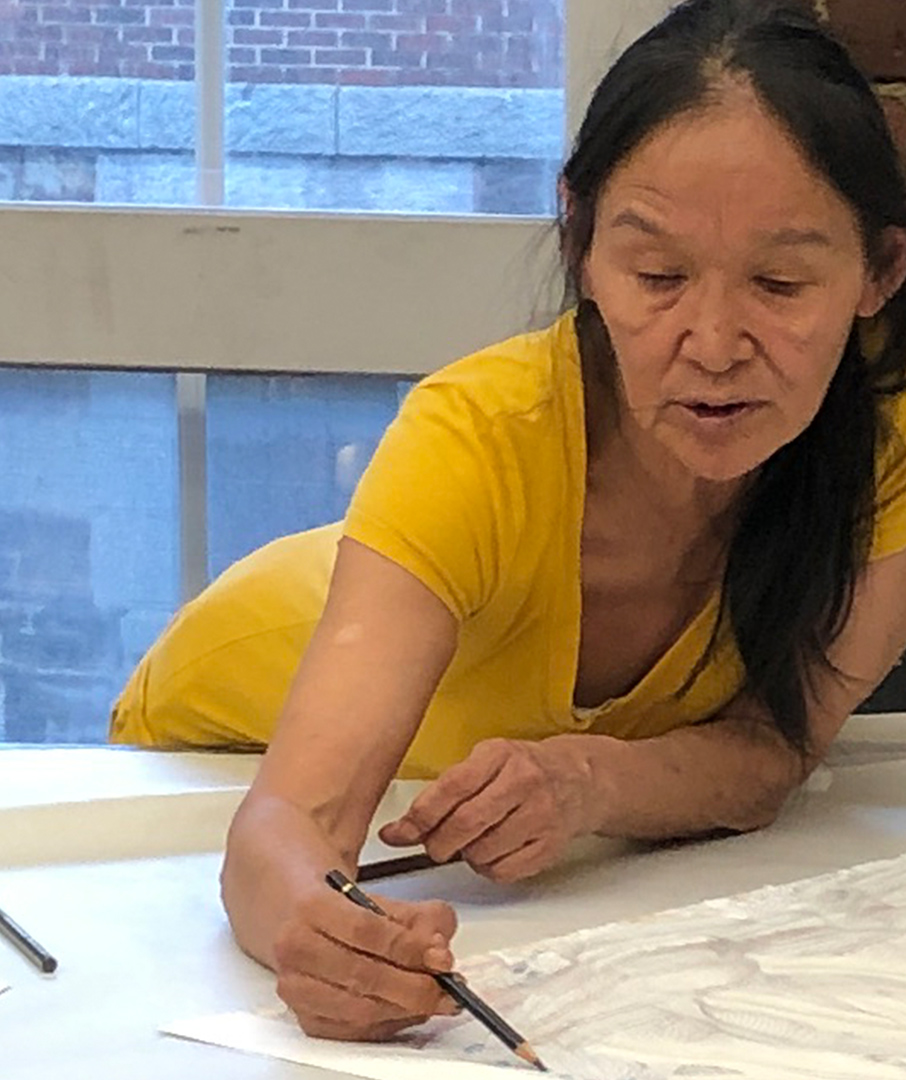 The Anna Leonowens Gallery houses the entire collection of prints from the NSCAD LWS. Using this archive of prints as a departure point, each of the eight participating artists worked in the NSCAD printmaking studios with Tamarind-certified Master Printer, Jill Graham, for up to two weeks, creating an original lithograph edition of 25 (22×28" in paper size). The resulting eight editions have been assembled into twenty portfolios that are for sale. Five prints from each edition are also available for purchase.
The sales of these editions will go towards building a sustainable publishing division for the NSCAD Lithography Workshop and the NSCAD Press.
History
Founded by the Nova Scotia College of Art and Design in 1969, the Lithography Workshop was a professional, single-press facility for the production and sale of limited edition, hand-pulled lithographs. The Workshop aimed to provide a facility with a high degree of technical ability to artists and the NSCAD University community, to make artists' works available to a larger number of people through printed editions, and to provide NSCAD with visiting artists who would contribute to the education of its students. While it was necessary for the Workshop to attain financial self-sufficiency through the sale of prints, profits were not a primary goal; rather, the focus was to engage in projects that would be interesting to both the artists and the Workshop, and that would also contribute to the educational role of the Workshop within the school. In addition to producing lithographs, the Workshop also published books in a minor capacity.
The Workshop arranged to publish artists' prints in three primary ways: 1) artists were invited to produce a print, 2) artists paid to have a print produced, or 3) the Workshop cooperated with an artist's dealer to publish editions. Each year, numerous artists (sometimes over 15) visited the Workshop to collaborate with the Master Printer on editions of prints; for most of the visiting artists, lithography was a new medium. Visiting artists often participated in activities in other areas of the school; such as teaching in the Projects Class, giving guest lectures or exhibiting their work in the Anna Leonowens Gallery or the Mezzanine Gallery.
Students were highly involved in the Workshop's activities. Printmaking students, printing apprentices and intern print curators had the opportunity to work on the prints under the direction of the Master Printer, giving students the valuable experience of working with an artist in a professional setting. The Workshop was also open to non-printmaking students who wished to meet the visiting artists and observe a professional printmaking process.
Within a few years of its conception, the Workshop's prints were acquired into every major museum, gallery and print collection in Canada, as well as many major collections in America. Throughout its active years, the Workshop's prints were also included in numerous exhibitions in Canada and America, including two circulating exhibitions in 1971 – one organized by the Museum of Modern Art and the other, an exhibition of the complete works of the Workshop, by the National Gallery of Canada. In 1975, the Art Gallery of Ontario organized a major circulating exhibition titled Prints from the Lithography Workshop: Nova Scotia College of Art and Design which ran from June 1975 – June 1976.
In 1980, the Lithography Workshop officially closed, but NSCAD continued to sell its prints.
Over the course of its operation, the Lithography Workshop had numerous Directors, Managing Directors and Master Printers. The following is a chronological listing of key Workshop Directors and employees, many of whom contributed to the Lithography Workshop:
Directors
Jack Lemon: 1968–1970
Gerry Ferguson: 1970–1971
Garry Neill Kennedy: 1972–1973
Jim Davies (Acting Director during Kennedy's absence): 1974
Garry Kennedy: 1975–1980
Managing Directors
Richards Jarden: 1971–1972
Wallace Brannen: 1972–1974
John Hutcheson: 1975–1976
Libby Hutcheson: 1975
Julie Duschenes (Acting): 1976
Murray Lively: 1977–1980
Master Printers & Additional Printers
Robert Rogers: 1969–1971
Wallace Brannen: 1971–1974
John Hutcheson: 1974–1975
Murray Lively: 1974–1980
Including: C.B. Manson, Charles Levine, Christopher Manson, Jerry Raidiger, Michael Armetrout, Perry Tymeson, Ray Lind, and Ted Ross.